Garrison News Archive
Congratulations to Dan Bergeron TK 3967
501st Legion's January 2013 Trooper of the Month!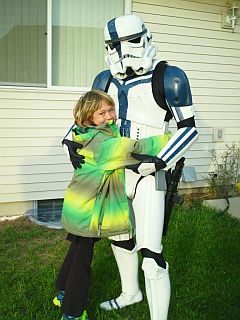 Dan has been a member of the Legion since January 2012 and during his year of service he has actively trooped as many events as his schedule permitted. Even as the armor became painful to wear, his desire to bring smiles to others did not permit himt o quit. Three months ago, the pain he was feeling was diagnosed as cancer. He began treatment and although he could not work nor drive and often did not feel well; he still found the strength to troop. Dan's passion for Star Wars and costuming is contagious and has spread to his friends who have now begun their own costumes.

January proved to be a challenging month for Dan as the treatments kept him home. To keep his mind focused and his hands busy, Dan began another build for himself and graciously assisted three other troopers on their builds. Opening his home when he could not leave to personal parties in order to help others achieve Legion membership.
Dan exemplifies the Heart of a Trooper and in a recent conversation he explained,
"As for why I do this.. Well I look back into my childhood and think about how awesome it would have been to see my favorite Star Wars characters in person, it would have made my year! Something I would never forget. I want to be able to give that feeling to as many kids and even adults as I can. For many of us we want to do these big troops the high profile troops where there is a lot of people and cameras... But to me that is not what is is about, it's helping others. If I can go see a sick child and make them forget about their pain and make them smile, that's what it's all about, not the lights and cameras but the personal interaction. I'll gladly do a small troop such as a birthday just to see that child's eyes light up and see them get excited rather than go to a big troops just to be seen.
Not to long ago I did a troop for a young boy. His cancer was in recession and we helped raise money for his medical bills. That young boy was the strongest person I had ever met. He never gave up and fought on. Months later I'm in his shoes fighting cancerand I look back at him and he has taught me to NEVER GIVE UP, AND FIGHT ON! Life is to short to worry about all the small things; live every day to the fullest, don't every take your family for granted, tell them you love them every day."
Dan has exemplified what it means to be a trooper within the Legion for his professional achievement in the performance of his duties. He has displayed exceptional ability, personal initiative, and dedication to duty.
Congratulations, trooper job well done!
Congratulations to Geoff Pfeiffer TS 4813: The Wisconsin Garrison's new Commanding Officer!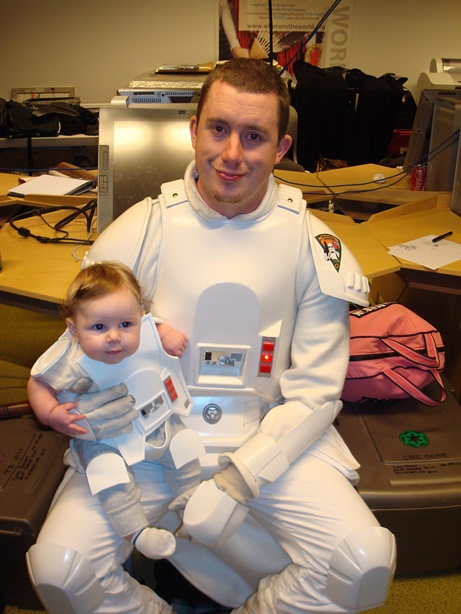 Geoff has been a member of the 501st Legion since November 2007. He intitally joined because he fell in love with the Stormtrooper costume. When he saw his future friends for the first time at Best Buy in Racine in 2005 for the DVD release of Revenge of the Sith he was intrigued by what he saw. From his initial phone call conversation with long standing Legion member, Michael Washko, up until the purchse of his first armor kit he was caught! Hook, line and sinker! In his many years in the Legion he has done well over 100 events. In Geoff's own words:
"To me it has never been about the quantity of troops, but rather the quality of the troop. I love the 501st Legion and everything it stands for. From the charity work down to the birthday parties. I have always said it's about the smile you put on that kid's face, to those kids and to our other fans, we mean the world to them."
During his tenure in the Legion, Geoff has served as Executive Officer, Garrison Guard, Councilor for the Legion Command, and currently Blizzard Force Detachment leader.
Join me in welcoming our new Commandin Officer for the Wisconsin Garrison!