Black Ice Squad of the Wisconsin Garrison
Welcome to the webpage for the Black Ice Squad, Wisconsin Garrison, proud members of the 501st Legion.
Mission Statement

The Black Ice Squad, a division of the 501st Legion and Wisconsin Garrison, is dedicated to raising awareness and spirits through appearances at charitable and civic events. Our family of volunteers strive not only to educate people as to the mission of the 501st Legion, but also create lasting relationships in our community and abroad, ensuring the quality of our message and support will continue for generations. We join together in the spirit of fun and altruism to spread a message of hope and a love of Star Wars.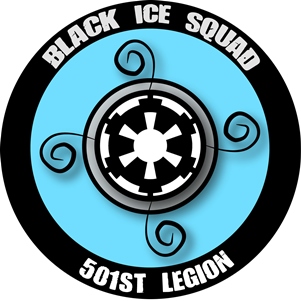 Squad News
Follow us on
Facebook
!
More Coming Soon!