Discover our Universe!
Welcome to the website for the Wisconsin Garrison, proud members of the 501st Legion. We are a group of Star Wars enthusiasts located throughout the state of Wisconsin, and we look forward to expanding our presence. You may see us at a post office, birthday party, at a theater, charity event or wherever the Empire may require us to serve. Of course, there may be times you will not see us, but we will be there - protecting and serving...
Garrison News
In Memoriam: Jerry Treiber, DZ-5591
Jerry Treiber, DZ-5591,
of the Wisconsin Garrison passed away on the 25th of December, 2013. Well known for his creativity and kindness, Jerry labored tirelessly to contribute to the joy and welfare of others.
Less than six months ago, Jerry wrote a short message about
Why We Do What We Do
as members of the 501st and summed it up by saying, "All I can think is that when I die, I don't want people to mourn me... I want them to celebrate my life. I want to know that I made an impact. That I left a legacy that mattered, of kindness, hope and inspiration..." Jerry shall be remembered as a generous soul, selfless in his being, and a bright light to every gathering and every individual he touched.
It is with great pride that we now enter his name into the 501st's Hall of Eternal Legionnaires.
Jerry is survived by his wife Sherry and children Jessica, Ryan, and Tiffany. If you wish to assist his family, please consider contributing to this memorial fund:
http://bit.ly/1il7M28
Jerry joined the ranks of our Eternal Legionnaires on December 25, 2013. He will be remembered as a generous soul who brought a bright light into every life that he touched.
Congratulations to Dave Johnson TK 6437
501st Legion's June 2013 Trooper of the Month!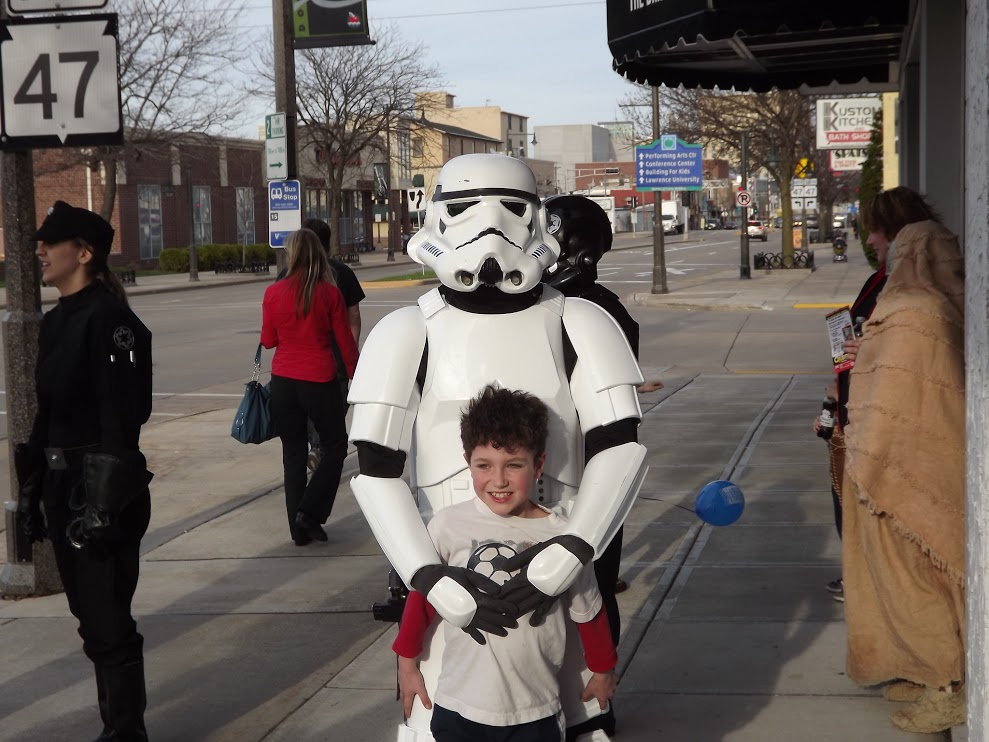 As David's son, Alan, has PDD (a disorder on the Autism spectrum), anything that has to do with raising awareness and funds for autism programs, is especially near and dear to his heart. So when the request came in, Dave knew that he wanted to make the Ride & Slide for Autism Awareness in Two Rivers, WI his first ever event coordination attempt. As his co-coordinator, I can was able to watch him grow and develop not just as a trooper, but also a person, through the connections he made during the planning of this event. He took the lead role on both the planning and day of activities, tossing out ideas to enhance the days' games/activities (including volunteering for the first round in the dunk tank) and encouraging all of the troopers to walk, run and play as long as they could. Whether it meant spending hours on the phone with the event requestors or online with troopers, David made sure he was always available to help make this event a success. Through his encouragement, the event was supported by twelve troopers, (including the return of a trooper whom had been retired for years) and four support staff, raising $6575.00 for the Autism Society of Northeastern Wisconsin. Additionally, we have already been invited to return next year. As an added bonus, a trooper once timid about taking a leadership role, is now looking forward to coordinating another event. But perhaps most touching, were two personal interaction that happened near the end of the day: .

Dave started the day as a Rebel Trooper in an ICE COLD dunk tank (and 50 degree weather) to help raise more funds for Autism Awareness. Then he changed into his TK armor and set out to dance, sing and play with everyone he could. Dave had just changed into street clothes to take a break for the first time in more than five hours, when a weeping little boy stepped into the concession stand line behind us. Overhearing the boy cry because he had missed a picture with the Stormtrooper, Dave turned, handed the little boy a trading card and gently said, "No worries. This guy is just taking a break to eat some lunch but I KNOW he will be back out in 30 minutes. I promise you he will come find you." The little boy's face lit up like the 4th of July. Dave quickly ate a hot dog and then ran back to the locker room to change for a third round in costume. .
Entering the park again, he began to cross the track to find the little boy. As we reached center field, a small voice carried over the crowd, "HE'S HERE! HE'S HERE!" Round the corner, running and jumping, was the same little boy; he was practically floating. He leapt into Dave's arms and told him he loved him. Dave, hugged him and told him he loved him too. After a number of pictures and playtime, his Grandmother, stopped me to thank us for being there, and for making a memory her Grandson would not soon forget.
Moments later, we were approached by a little boy who was so excited and nervous that he could not stop rocking and flapping. Recognizing his unique needs, Dave dropped down to speak with the boy (Kepper) at his level. He spoke quietly and showed Kepper how each piece and part of the costume worked. The boy was fascinated and quickly became comfortable - his flapping stopped...his gaze met Dave's directly. All the while, Kepper's Father excitedly took pictures. As Kepper said his thank yous and good byes, he too hugged Dave. And as my eyes met those of his teary-eyed Father, he mouthed, "This is SO huge. He never does that." The Father then told me that one of Kepper's, biggest coping mechanisms is living life on "repeat" - he was convinced that this was a memory he would repeat for the rest of his life.
Dave has exemplified what it means to be a trooper within the Legion for his dedication and willingness to do whatever it takes to make a smile . He has displayed an amazing ability, great initiative, and dedication to make a lifelong memory.
Congratulations, trooper job well done!